Why Samsung pay entered Indian market with ease compared to struggling Android/Apple pay?
Our world is migrating to digital era seamlessly and one of those step is digital payments which is growing exponentially every year. But majority of these transaction happen with swipe of debit/credit card and many of us hold minimum of 3 to 4 cards which becomes practically impossible to carry those on daily basis in our pocket.
To bring simplification for continuous stacking up of cards in our pocket and a hassle-free payment at Point of Sale (POS), various company came up with mobile payments using 'Tap and Pay' solution. Companies like Apple/Google launched their Apple/Android pay which allows user to store their card information in their smartphone and utilize NFC of your smartphone and POS machine to complete the payment, all you have to do is a 'Tap' from your phone on POS machine and payment would be completed.
These service did simplify the problem of carrying bunch of cards for performing payments by providing payment ability to our smartphones.
Apple/Android pay was announced years ago but still they couldn't launch their services in India and reason behind it is the technology which they operate on – 'NFC'.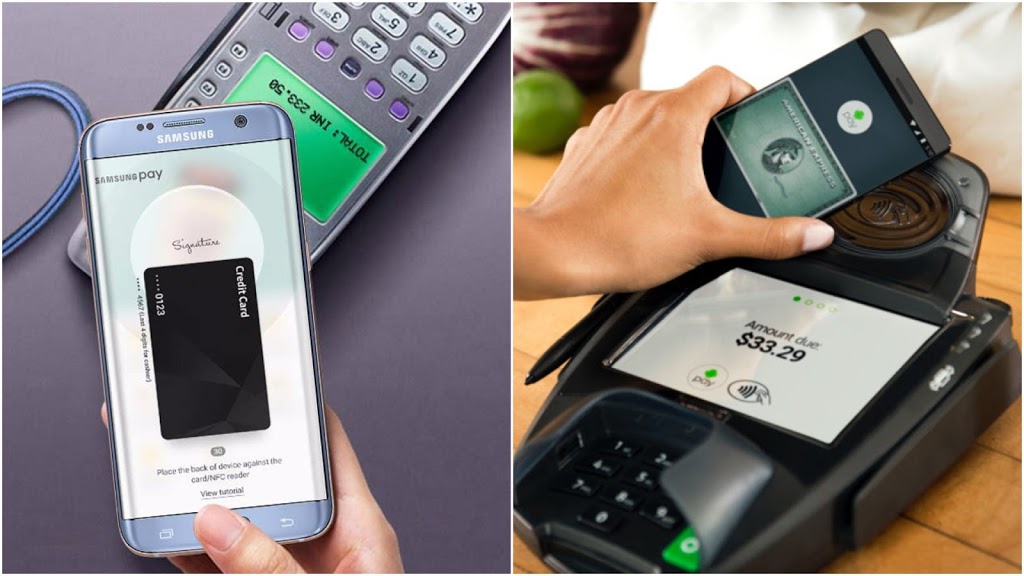 Samsung Pay (Left), Android Pay (Right)
In India, POS machines are not NFC enabled and in order to launch these pay services they would have to get banks involved in providing new nfc enabled machines to every seller which is quite time taking process.
On the other hand, samsung launched their 'Samsung Pay' service in India this year which simplfies the consumers card payment problem in the same approach but using an add-on technology to attain the same hassle free payment at pos.
They rely on an additional technology known as 'Magnetic Secure Transmission' which works with 90% of the pos machines available in Indian market.
How Samsung pay works:
Samsung pay is capable of working with nfc/non-nfc pos machines.
With NFC enabled machines – all you have to do is swipe up on your smartphone screen, your default card will be shown and authenticate with your fingerprint and then tap phone on the pos machine. Voila! your payment is done via NFC (Near Field Communication)
With Non-NFC machine – once you swipe up on your smartphone's screen and provide your fingerprint, device will try to locate any available signal for nfc, If it doesn't find any then it will go for contact-less transaction which happens utilizing magnetic secure transmission (MST).
Samsung phone will emit a electromagnetic wave which will mimic the action of swiping a debit/credit card on pos machine and then you can input your card PIN at pos machine. That's it! you completed your payment using samsung pay's MST technology.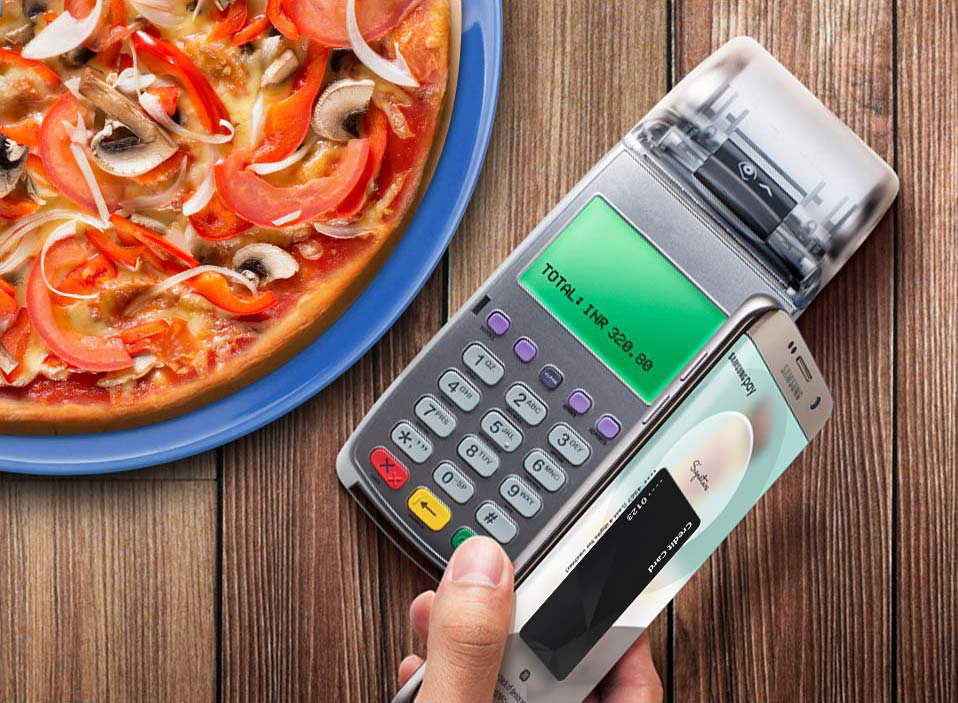 Samsung Pay (MST)