Top features of OnePlus 5T – 2017 smartphone
Earlier this year in June, oneplus announced it's fourth generation smartphone – oneplus 5 which was appreciated all over the world for it's great dual camera picture quality at affordable price without burning a hole in your pocket. But it couldn't justify it's existence in 2017 as renowned smartphone manufacturers this year shown us the trend of bezel-less beauty with Samsung Galaxy S8, iPhone X, Google Pixel 2 XL.
With launch of oneplus 5T – an improved variant of OP5, company joins the league of near bezel-less smartphone makers.
Lets quickly go over the top most features of OP5T:
Display
Oneplus joined the trend of less bezel smartphone with their oneplus 5T by giving op5 much needed change. With Op5T comes the 18:9 aspect ratio screen instead of 16:9 screen of op5 but oneplus sticks with the full HD amoled display which is justifiable at its price point. 6.1 inch screen of oneplus 5T is accommodated almost into the same op5 metal body by reducing those big bezel at forehead and chin of the phone.
Removing that huge chin of op5 forced oneplus to move the fingerprint sensor to back of the phone.
OnePlus 5T – 18:9 Full HD screen (Image Source: Oneplus)
Camera
Dual camera
is carried forward from oneplus 5 but the setup is not the same. Op5 had a main 16 MP sensor accompanied by a 20 MP secondary telephoto lens but oneplus 5T comes with same primary camera but secondary lens has aperture changed from f/2.6 to f/1.7, that means secondary lens is no more a telephoto lens. Lossless zoom won't be carried forward with OP5T instead secondary lens will help in low light photography as stated by oneplus. Plus they say portrait mode for images with bokeh effect will be improvised with new oneplus 5T.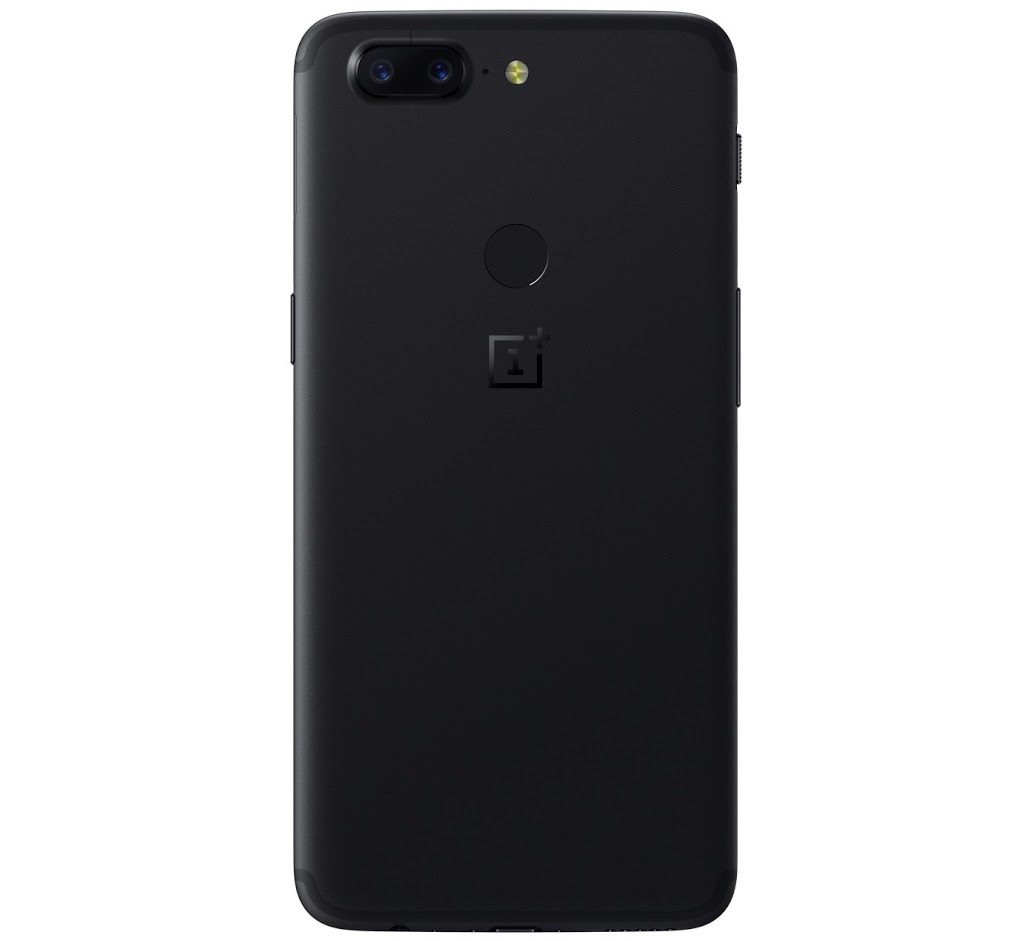 OP5T – Dual Camera setup with fingerprint at back (Image Source: Oneplus)
Facial Recognition
Oneplus has added a new face recognition feature to OP5T which utilizes front facing camera to unlock your phone as you look at it. This might not be the most secured facial recognition feature but it's definitely the fastest & accurate.
Pricing
This is not a feature of OP5T but I felt worth mentioning it as a separate point, oneplus has announced OP5T in India at same price as its predecessor op5 – Rs.32,999 ($499 for US) for 64GB variant.
Shop It Now: