Amazon Fire TV Stick | How it works
Apart from being a giant e-commerce company, Amazon is continuously emerging in smart product market too be it Amazon Echo, Kindle E-Reader or Amazon Fire TV Stick. With these products, Amazon is taking on the likes of Google and Apple. One such smart product from Amazon which we will discuss here is Amazon Fire TV Stick. This device gives direct competition to Google Chromecast. Both serve the purpose of streaming online content on to your television set but with different approach. You can go through my earlier post to know more about streaming via. Chromecast.
Unlike Google Chromecast, Amazon Fire TV stick is an independent streaming device which directly streams media via. Internet onto your HD TV. Lets quickly go over its working –
Amazon Fire TV Stick
Fire TV Stick is an online media streaming device for your HDTV. A normal high-definition TV will turn into a smart TV by just plugging-in this device. It connects to HDMI port on HDTV and give you access to movies, TV shows, Music and many more online content. Amazon has collaborated with many online content providers like Hotstar, Netflix, Eros Now, Sony Liv, Voot and of-course it's own Amazon Prime video. Unlike Chromecast, Fire TV Stick doesn't require any mobile device to stream media rather it directly connect to Internet and pull shows from various providers on your television.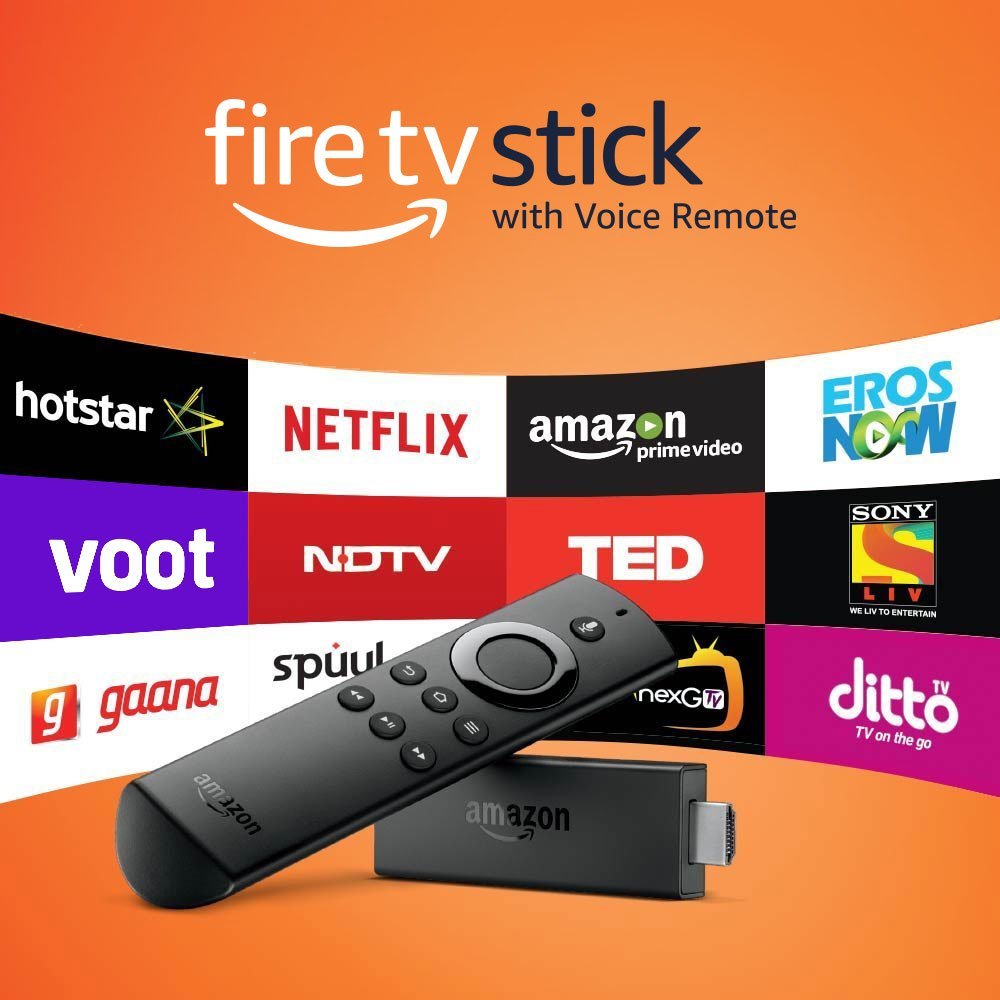 Setting up Amazon Fire TV Stick
Plug the Fire TV Stick into HDTV HDMI port and provide a power supply to it. Put your TV into HDMI mode and you will be guided through one time set-up and a prompt for Amazon's account login. Once inside your account, you can view all your music & videos purchased under Amazon's account.
Specification of Amazon Fire TV Stick
Fire TV Stick is very much similar to a USB device. It connects to HDMI port and comes with 8GB of internal storage with 1GB of RAM. This 8GB internal storage let you install various online content provider apps to your stick. It also has Bluetooth 4.1 support and comes with a remote control which can be operated via. voice commands. Output resolution of Fire Stick is 720p & 1080p upto 60fps.
How Amazon Fire TV Stick works
Fire TV Stick connects to your HDTV via. HDMI port and requires a WiFi access to get you all those Internet content onto your TV. Once connected to WiFi, input your amazon account login details. Pair your voice remote with the Fire TV. Now stream your favourite content directly in your HDTV. You can even search for any movie or TV show via. Voice remote.
If you like this article, please spread the word. Also, follow us on Facebook and Twitter.
Shop It Now: